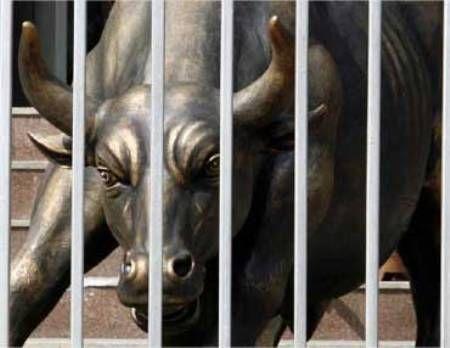 Sensex closed 615 points higher at 29,361.50 and Nifty also moved up 57. 25 points at 8,901.85.
Earlier, benchmark indices had turned weak mainly on account of the selling pressure on ITC which has slumped around 8% after excise duty on cigarettes was increased by 15% to 25%.
Among other major losers. HDFC and L&T have shed around 1% while Sesa Sterlite, BHEL, Tata Power and NTPC have lost 1% to 2% each.
At 3:20 PM, the 30-share Sensex was down 142 points at 28,178 and the 50-share Nifty was down 34 points at 8,810.
Markets slip in the negative territory with Index heavyweights including HDFC twins, RIL and L&T contributing most to the decline on the 30-share Sensex as FM Arun Jaitley concluded his Budget speech.
At 12:45PM, the 30-share Sensex is down 12 points at 29,208 and the 50-share Nifty has lost 6 points at 8,839.
Markets rebounded after the Finance Minister in his Budget speech announced reduction in corporate tax to 25% from 30% for a period of four years. Meanwhile, the Finance Minister has deferred GAAR (General Anti Avoidance Rule) by a period of 2 years.
At 12:15PM, the 30-share Sensex was up 254 points at 29,474 and the 50-share Nifty was up 68 points at 8,913.
HDFC, HDFC Bank and Axis Bank were among the top Sensex along with index heavyweights ITC and Infosys.
Markets came off their day's highs as investors booked profits at higher levels as Finance Minister Arun Jaitley's presentation of the Union Budget got underway.
The Finance Minister has announced a slew of reforms for housing, infrastructure both rural and urban, education and agriculture among others.
At 11:45AM, the 30-share Sensex was up 92 points at 29,312 and the 50-share Nifty was up 22 points at 8,867.
Bank shares witnessed profit taking HDFC, ICICI Bank, HDFC Bank and SBIBank were up 0.2-1.6% each. L&T also witnessed profit taking and was trading with marginal gains while BHEL was up 0.8%.
Coal India was the top Sensex loser down 1% followed by Reliance Industries, Hero MotoCorp and Tata Motors among others.
Other mid-cap gainers following the Budget proposals, Jain Irrigation, IRB Infra, Core Education were up 1-2% each.
In the broader market, Mid-cap and Small-cap indices were trading with marginal losses.
Markets continued to remain at higher levels after the Finance Minister Arun Jaitley started his Budget speech which focussed on accelerate growth, enhancing investment and improving the quality of life for every citizen.
At 11:05AM, the 30-share Sensex was up 252 points at 29,472 and the 50-share Nifty was up 69 points at 8,914. Financials which are the proxy to the economy were among the top gainers with focus on economic growth.
HDFC, HDFC Bank, ICICI Bank, SBI and Axis Bank were up 1-2% each. Capital Goods shares were also among the top Sensex gainers after recent order inflows.
Engineering major L&T and BHEL were up over 2% each.
Benchmark indices continue to trade firm led by gains in financials and capital goods shares as traders hope Union Budget will exceed market expectations in offering a suite of financial reforms to put India on a sustainable high-growth rate path. At 10:15AM, the 30-share Sensex was 220 points at 29,440 and the 50-share Nifty was up 58 points at 8,903.
In the broader market, the BSE Midcap index, up 0.7% and Smallcap index, up 0.8% are moving largely in-line with the front-liners. Market breadth in BSE ended negative with 1,663 declines against 1,223 advances.
The Buget is likely to vigorously push Modi's "Make In India" campaign. Several initiatives will be undertaken to boost investments by the corporate sector and promote manufacturing as part of the "Make In India" campaign that aims to make the country a global manufacturing hub and create jobs.
The finance minister is also likely to pursue the path of fiscal consolidation and keep the fiscal deficit target at 3.6 per cent of GDP, down from 4.1 per cent expected this year.
"FY16 budget could be more relevant for the market than usual as over the past year it has run up 45% (Nifty) in anticipation that the new government will enable a V-shaped recovery in earnings of 17-20%; actual at 6% has been much weaker.
Hence, there is little scope for the budget to disappoint," said Dhananjay Sinha, head – Institutional Research, Emkay Global Financial Services in a note.
"The test for the budget is to deliver a prudent budget, solidifying the path of fiscal consolidation and yet be palatable for both corporates and households.
Compounding the constraint is the BJPs recent political debacles and farm sector resentment over the Land Acquisition amendments. Hence, given this context and the upcoming Bihar election, the scope for the government to take tough economic measures can be inhibited," he adds.
Sebi had decided to keep the markets open on the budget day, despite it being a Saturday, and asked the stock exchanges to put in place necessary systems to conduct trading during normal market hours from 9am to 3.30pm while trading segments including forex and money markets are shut today Meanwhile, foreign institutional investors were net buyers in equities to the tune of Rs 1,957 crore on Friday, as per provisional stock exchange data.
Buzzing Stocks 8 out of the 12 sectoral indices of BSE are in red.
BSE Realty index, up 2.4% is the top gainer followed by BSE Capital Goods index, up 2% and BSE Bankex and Power indices gaining around 1.2% each.
Capital Goods stocks are trading firm.
BHEL and L&T have gained around 3% and 2% each. Defence Ministry shortlisted a consortium of Tata Power-Strategic Electronics Division (SED) and L&T for the battlefield management project.
Tata Power is up 1.4%. Financials are trading higher ahead of the Union Budget. HDFC, SBI and ICICI Bank have gained around 2% each.
Axis Bank is up 1.4% and HDFC Bank is up 0.7%.
Banking shares have extended gains after the Economic Survey 2014-15 tabled in the parliament yesterday forecasted FY16 GDP growth between 8.1% and 8.5% on hopes of further reforms. Oil and gas shares are gaining.
ONGC is up 1.2%, RIL and GAIL are up 0.4%. Metal stocks are trading mixed. While Sesa Sterlite and Tata Steel have gained 1.5% and 1% each, Hindalco is down